So I've been super slack with sending out demo pedals.... basically because i haven't been able to build anything other than pedals for customers...
Anyway... demo pedals have gone out so those videos should appear soon enough. In the meantime please have a listen to this short clip, I have tried to show what the team medic can do in the simplest way possible. Hopefully that makes sense.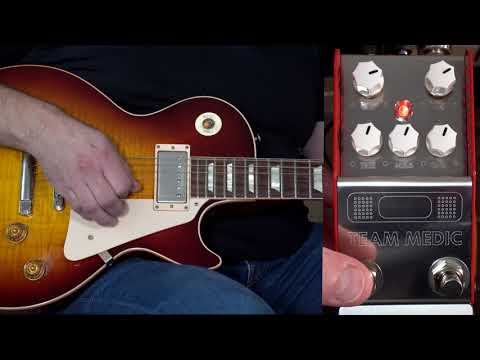 The TEAM MEDIC is a creation designed to meet my need for a pedal that enhances and improves a large pedalboard and eradicates any of its flaws. It also serves as a tone fixer to improve the EQ or volume output of a pedal. Although simple to operate, the TEAM MEDIC is complex internally and can fulfil a number of functions. It has an excellent Class A buffer that operates in a low noise and invisible manner to enhance your guitar signal in bypass, this can be switched out using the internal switch if you prefer your pedal to be true bypass. Internally the power regime operates in a high headroom manner with 18v of headroom split +9V and -9v. This means that the pedal can receive very high output pickups, pedals etc without distorting itself. This allows the active EQ (Bass, Middle and Treble) to add or take away 6db of those frequencies for serious tonal adjustment. Finally, the pedal can be used as a light and transparent boost but if you wish to use the pedal as a heavy boost pedal or use it to lift your sound for solos etc just tread on the left footswitch for an additional 20dB of clean awesome boost. P.S. If you were wondering why I chose the name... I completed the Team Medic Qualification before deployment to Afghanistan. I thought it was an apt name for a pedal designed to fix, enhance and generally make your guitar sound as awesome as possible. Buy from here:
https://thorpyfx.com/collections/thor...
Or from any of these awesome worldwide dealers:
https://thorpyfx.com/pages/dealers
Adrian Thorpe MBE | Owner of ThorpyFx Ltd | Email: thorpy@thorpyfx.com | Twitter:
@ThorpyFx
| Facebook: ThorpyFx Ltd | Website:
www.thorpyfx.com
0
LOL
1
Wow!
0
Wisdom
·