Hi All,
Edit: Resurrected this post as a NGD soon. Only the Revelation left. I will leave original post intact.
Given I have just pushed the button on an Ibanez RG370AHMZ (sorry, I should post a NGD, will do soon), I have three guitars for sale. I have one guitar stuck in a case as I have run out of hangers and no more practical space so I need to sell 2 of 3 guitars I would be willing to release. However, I may be interested in trades for 1 of my guitars +plus cash, 2 guitars + cash, all 3 for one guitar, . . . Basically I am open to offers. I can also add cash to a swap of any combination - talk to me
;-)
I would be interested in a Hagstrom Tremar. I have a gretsch G6120 but I would be open to a Gretch G5420/G5120 with TV jones pickups or a Gretsch Corvette, an eastwood airline h78, yamaha TVL with bigsby. I prefer not to have guitars that are similar and I have a Strat, Les Paul studio, Cabronita, Ibanez RG370AHMZ, Baja Telecaster, Gretsch 6120. I prefer not to post. I am based near Swansea. I travel to Bristol often and happy to travel a few miles if it helps.
REVELATION RLR SOLD
Bought this based on review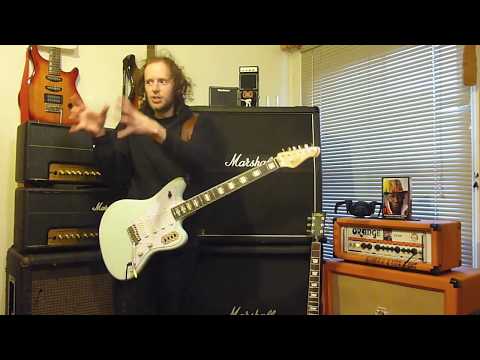 - check out the web. I did do a NGD post about it. Since then, I have added a Duesenberg Les Trem II Chrome (circa £75) and a Vansan roller saddle (£15 and very good IMHO). Tuning stability compares with my Gretsch. Original parts will be included. I would describe as excellent used condition. There is one very minor surface scratch from my thumbnail I guess where I adjust the far right tone but that should be able to be buffed out, hard to photograph as reflections and dust are more prominent. Shown in one of the photos is a curious blemish to the left of the fifth fret which doesn't feel like a crack, maybe a finish issue? It is a heavy guitar - on a par with any standard heavy Les Paul. A darker tone but has the out of phase switch which is useful for a Peter Green kind of flavour. Fretwork is excellent. Grover tuners, Entwistle pickups.
Price: £200 with the Duesenberg Les Trem II Chrome, £150 without.
REVELATION RJT60 QUAD
I bought this based on excellent guitar for the price. The only hassle is the tremolo will swing loose. I originally posted about the tremelo being loose, I since then found the grub nut to tighten it
:-)
A few very minor dings that are pictured, no buckle rash, no real fret wear. A very light guitar. Entwistle pickups are excellent.
Price: £150 now £100
CORT SOURCE 335 SOLD
Purchased from tFB -
@sweepy a real bargain. I changed the pickup covers to black. I purchased a lighter spring for the Bigsby and also added a Vanson roller I was so impressed with how it transformed the stability on the RLR above. All original hardware will be included. I often pick this guitar up when I am in circumstances where I don't want my Gretsch to suffer damage, it really is a very nice guitar and tuning is as good as my Gretsch.

Price: £200
TRADE VALUE
Given the minimum sale value from above is £500 then for any guitars from my wish list above I am happy to go with a trade value of £450 without the Duesenberg Les Trem II or £500 with. Talk to me
;-)
Images will be uploaded very soon. Please ask about what looks like scratches and dings - I placed the guitars on a new throw to minimise reflections - that throw is leaking threads. Did the best I could with my mobile camera.