Hello all..
After the last few years of dealing with some personal issues, I have decided to sell my old stock of guitars off at not much more than cost price but only to Fretboard members.. Each will include a case of some kind (most are padded gig bags).. If you are in or around the M25 area I will happily come and deliver it myself to make sure you like what you are buying or we can organise delivery between ourselves.
I am moving in to a new phase of building if you like, one of the reasons being that I have been doing some part time work for a timber supplier and we have some of the most amazing looking wood I have ever seen to the point where its inspiring me to do new things, and also its to start this new phase with a clean slate as it were. All of these guitars we the ones I have been showing at guitar fairs which is another reason they are going at this price.
While I will say that cosmetically my guitars aren't super shiny (nearly always use a natural oil finish) I certainly stand behind the playability and sound of each and every guitar I make and sell (or I wouldn't sell it)… Some of these guitars are some of my early work too but I will be totally honest about each guitar and what you are getting.
I will start with two of my favourites..
This is my Half and Half Double Cut. As you can see its a fairly unique build in the way its made from two different woods all neck and body.. This guitar also comes with Gibson Mini Humbuckers which sound amazing.. You get that real bite with them, but I will post a demo as well as a build video so you can see and hear for yourself.
While I am not claiming that its built any differently to any other two piece body, I have still yet never seen another quite like it.
24.75 " scale length
12" fretboard radius
Gibson Mini Humbuckers
CTS pots and PIO caps with Switchcraft jack and switch
Half ash, half African Mahogany
Schaller Tuners
Tru Oil finish
Neck is quite fat, don't have the specs but the nut width is 43mm and goes to 57mm the other end.
£450 SOLD
https://i.imgur.com/Y9YPWS8.jpg
https://i.imgur.com/pRFCnos.jpg
https://i.imgur.com/ltIDMnc.jpg
https://i.imgur.com/9E7pAPK.jpg
https://i.imgur.com/IMfJ9ZA.jpg
https://i.imgur.com/5n9KO0S.jpg
This one comes in a hardcase too
https://i.imgur.com/vikyTjz.jpg
And as mentioned heres a build video and a demo
So please PM me if you are interested and obviously if there are any questions please feel free to ask.
This has a small demo at the end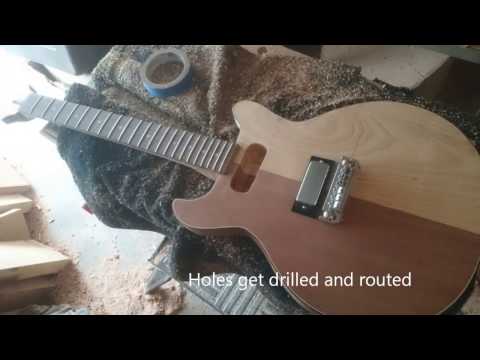 And if you have made it this far, the full demo (gets heavier towards the end)