Got this lovely little thing the other week from the wife as a birthday present....
Overall, very impressed for the money. It has the general feel of any other cheaper level guitar/bass, but is much cheaper.
The body is very good, nice feel and finish, some nice grain coming through, all of the hardware is relatively neat and wobble free. Controls are solid and work well, if a little "on/off", but I'm not surprised and didn't think these would be much good anyway. The pickguard is a bit roughly cut, but again nothing too bad and this may or may not end up going. The bridge and tuners are surprisingly quite good for the price, and I thought these would be essentially useless and clearly where money had been saved. These will probably stay until they start to fall apart. Might put brass saddles on sooner, actually. Bridge is going to have a cover over it, so not too fussed about having a modern looking bridge on it for now.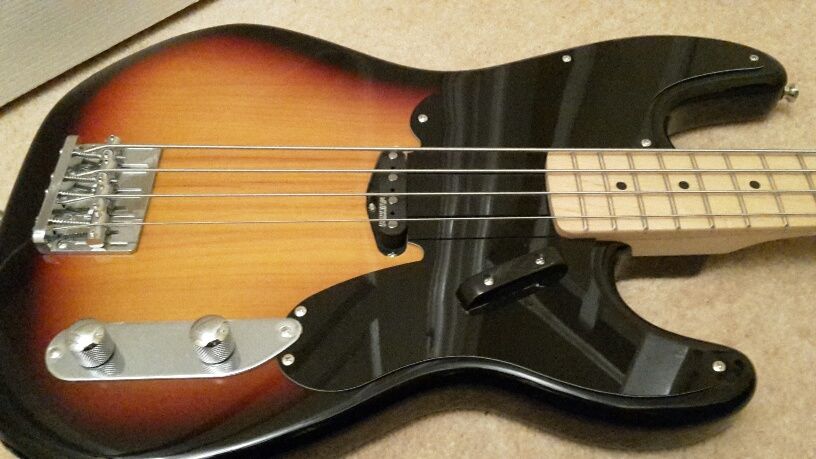 The neck has a nice smooth satin finish and there aren't any sharp fret ends, although a few frets are higher than others. The maple is quite pale, and there's a very clear difference in colour between the fretboard piece of wood and the rest of the neck, which is noticeable and a bit unsightly. This neck is one of the main areas where the cheap roots of the bass show slightly. I think this is actually their cheapest maple necked bass by around £30, so I imagine the other options have nicer wood in the necks. The feel and fit of the neck is however very good, so it's not really a craftmanship issue.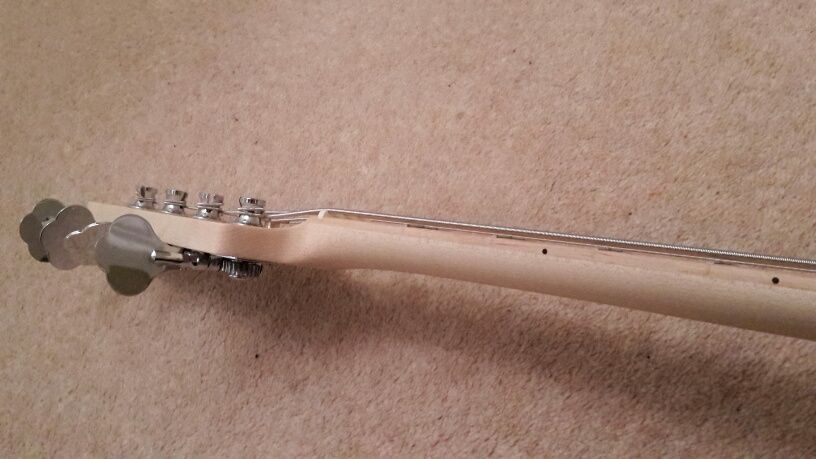 The most interesting thing about this bass, well maybe not in the grand scheme of things, is the fact that it's a wilkinson pickup. I may be wrong, but I'm not aware of any other wilkinson linked guitars (i.e. Vintage) having a '51 style single coil p bass pickup, which means this is the only bass you can buy it with. At least at the moment, until Vintage release a '51 P bass copy.
Soundwise it does what it's meant to do. Not the most characterful pickup, does solid rock/pop and quite good for punk sounds. Bassier than I thought it would be, but definitely happiest with lower mids. Seymour Duncan do a range of good single coil p bass pickups, so I'll stick one of those in at some point.
Modding plan:
Effectively, it's working on the neck and the guts. The body of the bass is actually very nice, so I don't want to touch that. There's a guy on youtube who reliced his HB 51 bass, but I'd rather get this looking nice and shiny. Not much modding really, but just focusing on trying to create a good looking '51 style bass.
May take a while to start work as I'm waiting for parts, but will update as I get on.