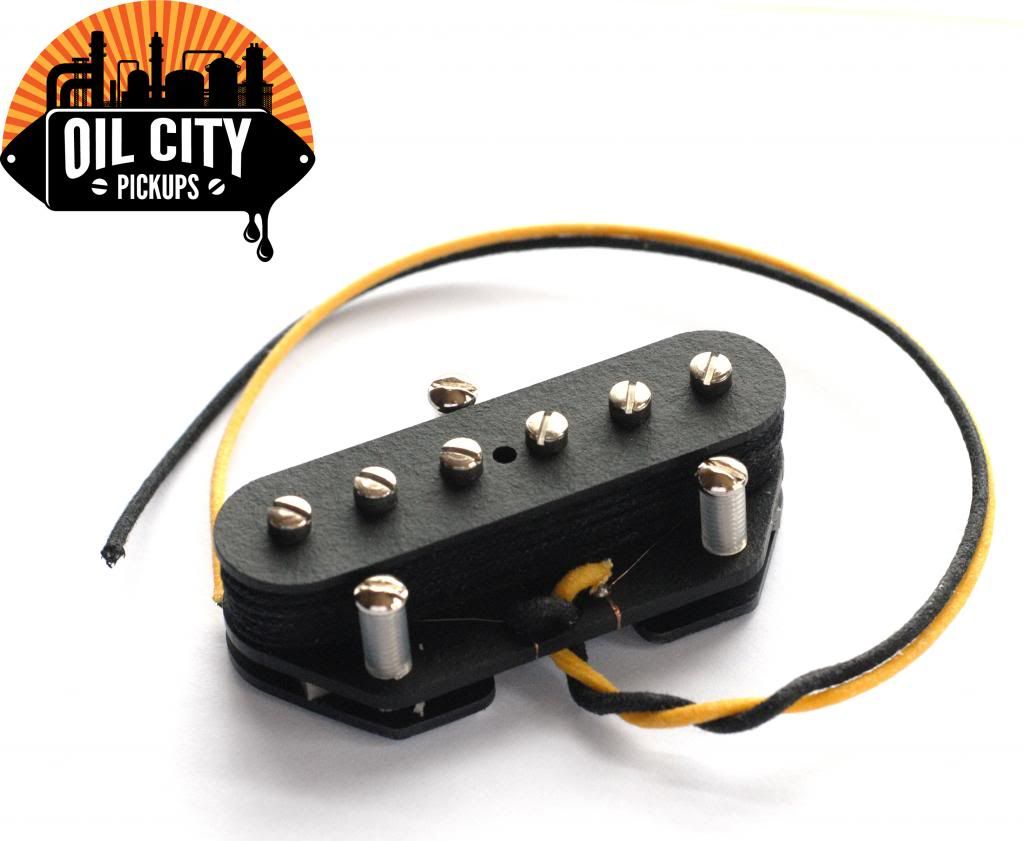 Most of you are used to seeing my pickup designs as fully completed 'pickup porn' like the above shot of my Tele 'Twang 90' … but I've intended for quite a while to do a series of posts about the nuts and bolts pickup design and repair. Not only because some of you nut-cases want to try your hand at winding pickups yourself, but also to give you a bit of confidence in performing the common pickup repair, maintenance and even improvement jobs that many of you think might too difficult.
I'm going to kick off with how to improve your cheap, Chinese made humbuckers by 100% for under a tenner for the pair. It'll be fun, and give you a real sense of achievement to be dabbling in the dark arts of pickup science. Most of us have this sort of pickup kicking around in a drawer somewhere … I'm going to make this one work for its money!
Today I plan to convert a cheap neck pickup into an acceptable PAF clone by removing the horrible, skinny hookup wire and putting in some vintage style braided cable (I will cover conversion to 4 conductor in another post) … and most important … binning that nasty ceramic magnet and putting in a nice alnico 4 … for some BK style PAF action. I could just as easily used alnico 2 for … er … Slashier tones … or alnico 5 for more cut.
Here's the subject for our Frankenstein's lab experiments.
An Ibanez
(Artec) humbucker taken from one of my Artcore semi
acoustics.
It's problems are sloppy construction and a nasty, cheap ceramic magnet that produces a coarse, grainy overdrive and either mud from the neck pickup, or 'fingers on a blackboard' screeching from the bridge pickup.
The first thing to do is open her up. For removing chrome covers some recommend using a Dremel or similar, equipped with a 1" cut-off wheel to 'slice through the solder. The theory being that if you use a soldering Iron, you need to use more heat to remove the solder than was used to apply it in the first place … so you risk damaging the pickup's internals. Personally,I find that using a big, powerful soldering iron lets you put lots of heat into a small space really quickly and can actually minimise the risk of damage. I use an el-cheapo 100w beast from e bay that was £9.99 if I remember correctly. It's a brute … but has removed and soldered dozens of covers and is still going strong. The other cover removal tool I use is an old 50s table knife … though a narrow stainless kitchen spatula would do.
A swift heat of the solder blob … and the knife is slid in to 'cut' the molten solder. Make sure your iron is really hot and you have tinned the tip a little.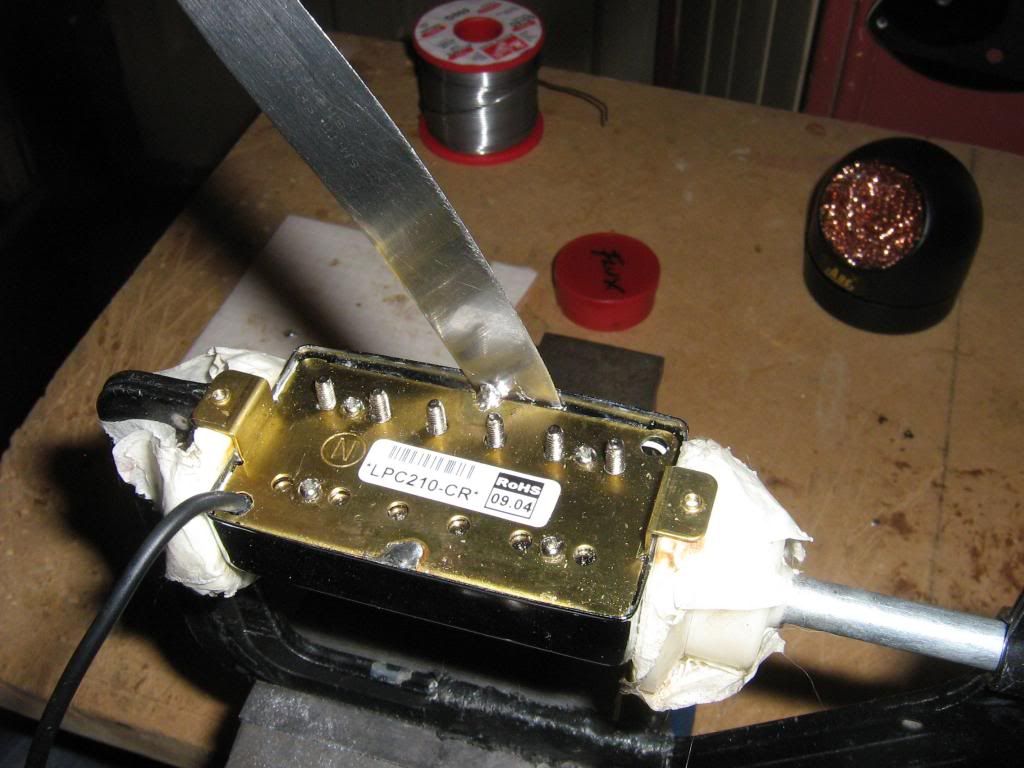 Carefully slide off the cover and voila … the guts revealed.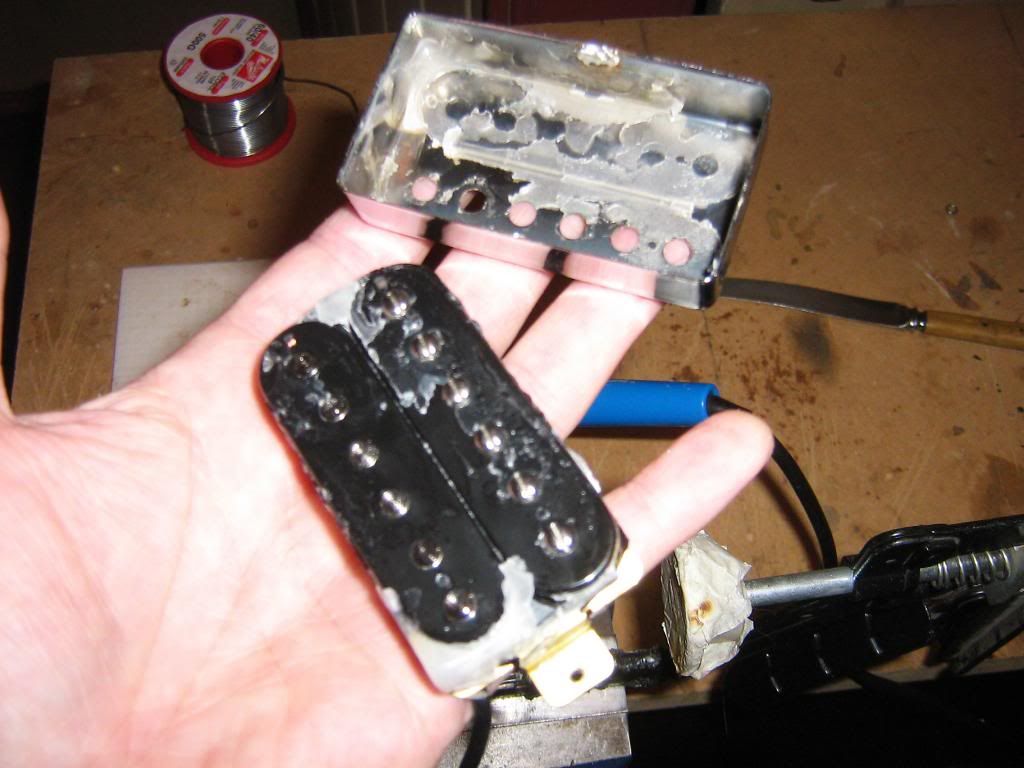 First we're going to remove that magnet. I loosen but I don't usually remove the four bobbin screws, at this stage, instead I gently 'wiggle' the bobbins to break the seal of potting wax that's holding in the offending part. I carefully push out the ceramic magnet and consign it to the bin …
A nice shiny alnico 4 magnet. There are several of suppliers of these on line … and even on e bay.
One problem you may encounter is that ceramic magnets are physically thicker than alnicos … so the spacer that keeps the 'slug' side bobbin level when you tighten the bobbin screws, may now be too thick. No such problem here … the Artics are so cheap and cheerful they don't even have spacers! Here I've cut a new spacer from some scrap maple (exactly what Gibson used).
We have to make sure we replace the new magnet in the same polarity as the original … so here you will need a cheap compass … or as I'm using here, a Stew-Mac polarity tester. The magnets north pole should point to the 'screw' pole pieces in a PAF design.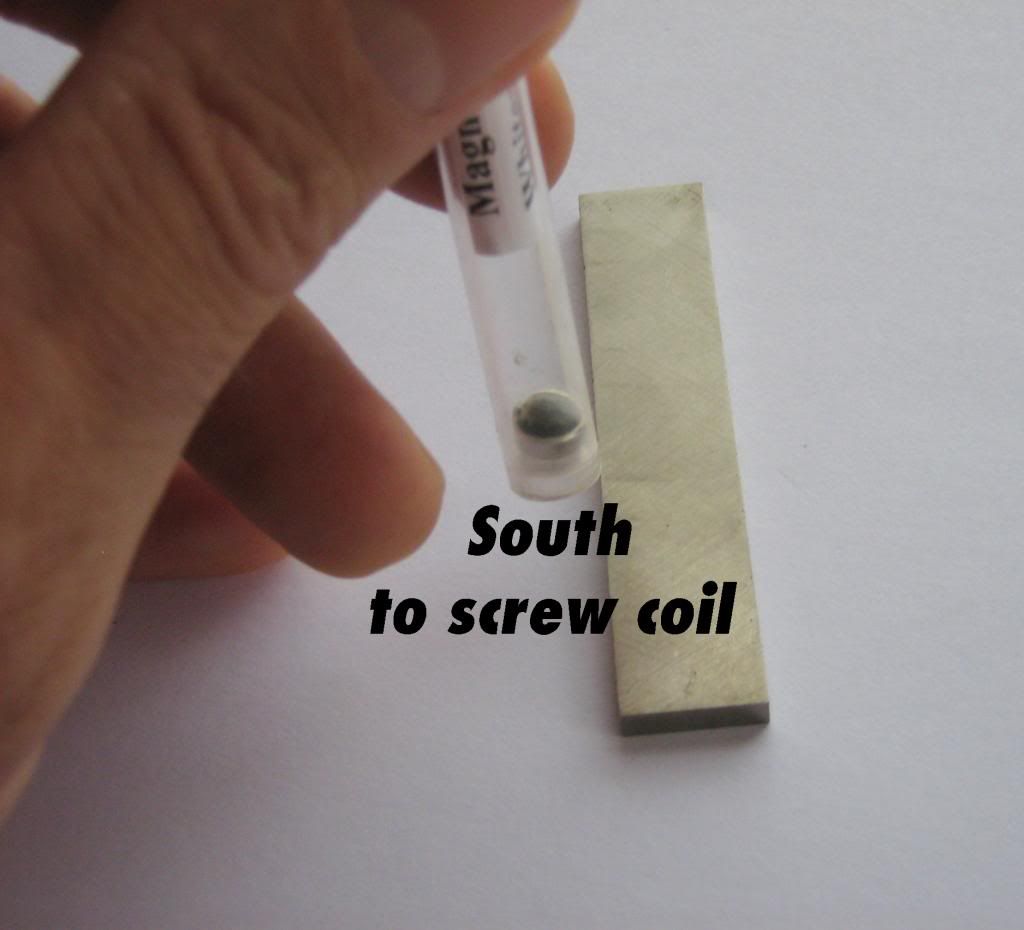 Right … now to sort out that wiring. A convention that often puzzles newbies to pickup work … is that according to first principals, to work properly a humbucker must have each coil of opposite polarity … and wound in the opposite direction. Yet most humbuckers are, in fact made with both coils wound in the same direction … just with one coil connected electrically the opposite way around. In a humbucker this makes no difference and makes manufacturing a bit easier!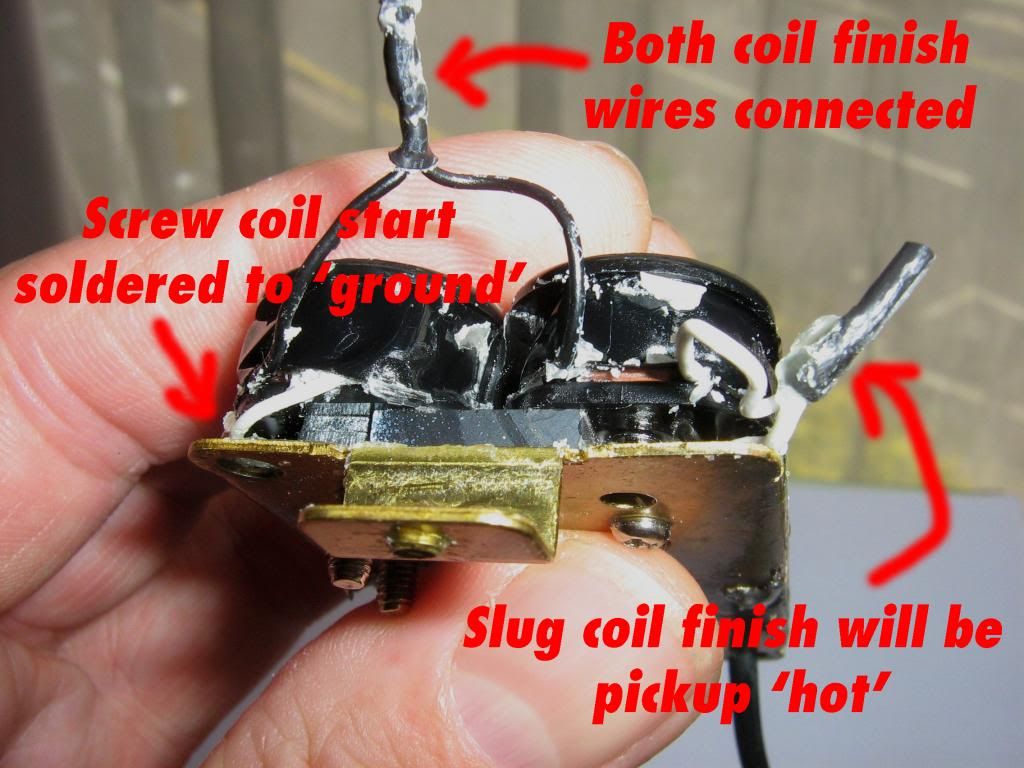 The old magnet didn't succumb to wiggling in this case … and I had to take everything apart and slide a knife blade between the top of the magnet and the bobbin.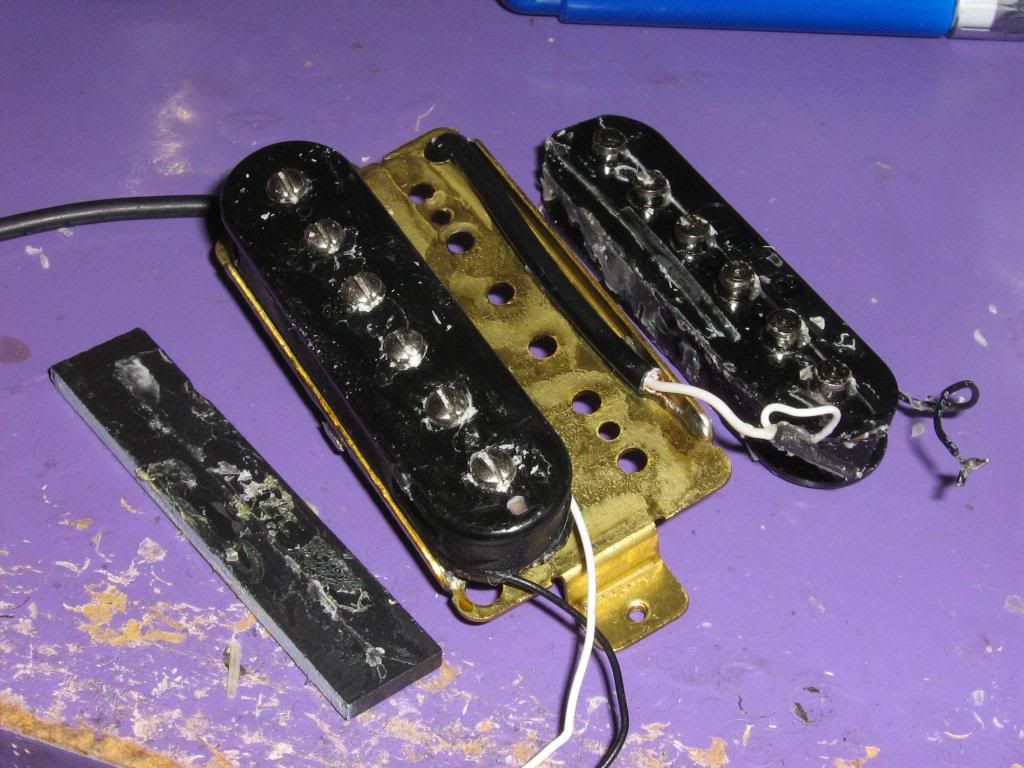 We've identified the 'coil start' and 'coil finish' leads for each bobbin … fairly easy … most of the time the coil start is the one that disappears under the bobbin and goes to its centre … the coil finish pops out from under the pickup tape.
We will be connecting the coils in series as normal … so the finish of one goes into the start of the other for normal hum cancelling operation. But as I've said one must be 'backwards' to the other to be humbucking … and as both coils are wound the same way … the way to do this is to connect the two finish wires together. This will then make the slug coil 'start' the pickup's 'hot' connection, and the screw coil's 'start' the
'ground' connection.
Stand by for part two .....